FT Partners Publishes New In-depth Report - FinTech in India: A Digital Gold Rush
With one of the fastest-growing economies in the world, a young, tech-savvy population, and a large contingent of citizens who are underserved by traditional financial services, India has rapidly emerged as a FinTech powerhouse. As a result of these favorable trends, in addition to a high concentration of tech talent and a number of government initiatives aimed at driving financial inclusion, India's burgeoning FinTech sector has attracted billions from global investors in recent years. In 2022, Indian FinTech companies raised nearly $6 billion, the third most of any country behind only the US and UK, accounting for around 7% of all FinTech financing volume globally.

Key discussion topics of the report include:
Key opportunities and challenges for FinTech in India, including macroeconomic and regulatory trends, as well as an overview of the country's key FinTech sectors

A detailed landscape of FinTech companies in the country across sectors

Individual profiles of 80+ companies playing a significant role in the Indian FinTech universe

Exclusive interviews with executives from 25+ leading Indian FinTech companies

Highlights of active investors in the space and recent financing and M&A transactions
Watch the Replay – FinTech in India VIP Video Panel
On November 2, 2023, FT Partners held a VIP video conference that brought together some of the leading India-focused FinTech executives and investors to discuss the current state of FinTech in India and the outlook for 2024 and beyond.

Panelists:
Tushar Aggarwal, Founder and CEO of Stashfin

Nalin Negi, CFO and Interim CEO of BharatPe

Miten Sampat, CRED

Manasi Shah, Vice President at Accel

Anish Achuthan, Co-founder and CEO of Open Financial Technologies

Greg Smith, Managing Director at FT Partners
FT Partners Publishes Q3 2023 FinTech Insights Reports
FinTech deal activity volume, across financing, M&A and IPOs, grew for the second quarter in a row, potentially indicating that the bottom may have been hit back in Q1 2023. Still, broader economic concerns continue to percolate, and gains are slim. Specifically, volume grew 27% over Q2 2023 totaling more than $44 billion, reaching close to the level from a year ago in Q3 2022 ($47 billion). Q3 2023 FinTech deal activity boasted quarter-over-quarter increases for $100 million+ capital raises, $1 billion+ M&A deals and at least some IPOs, potentially signaling a return of later-stage activity.

The reports feature:
Q3 2023 and historical FinTech financing and M&A volume and deal count statistics

Largest FinTech financings and M&A transactions in Q3 2023

Most active FinTech investors including strategic investor participation

Breakdowns by geography and deal type

FinTech sector and sub-sector highlights
View FinTech – All Sectors Report View InsurTech Report View Sponsors / Private Equity Report
VIP Video Conferences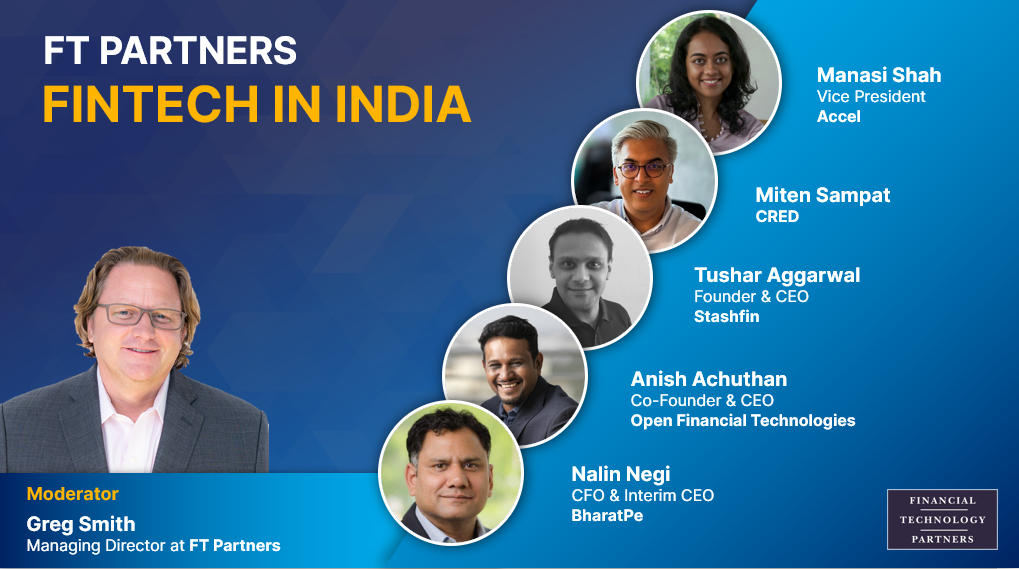 On November 2, 2023, FT Partners held a VIP video conference that brought together some of the leading India-focused FinTech executives and investors to discuss the current state of FinTech in India and the outlook for 2024 and beyond.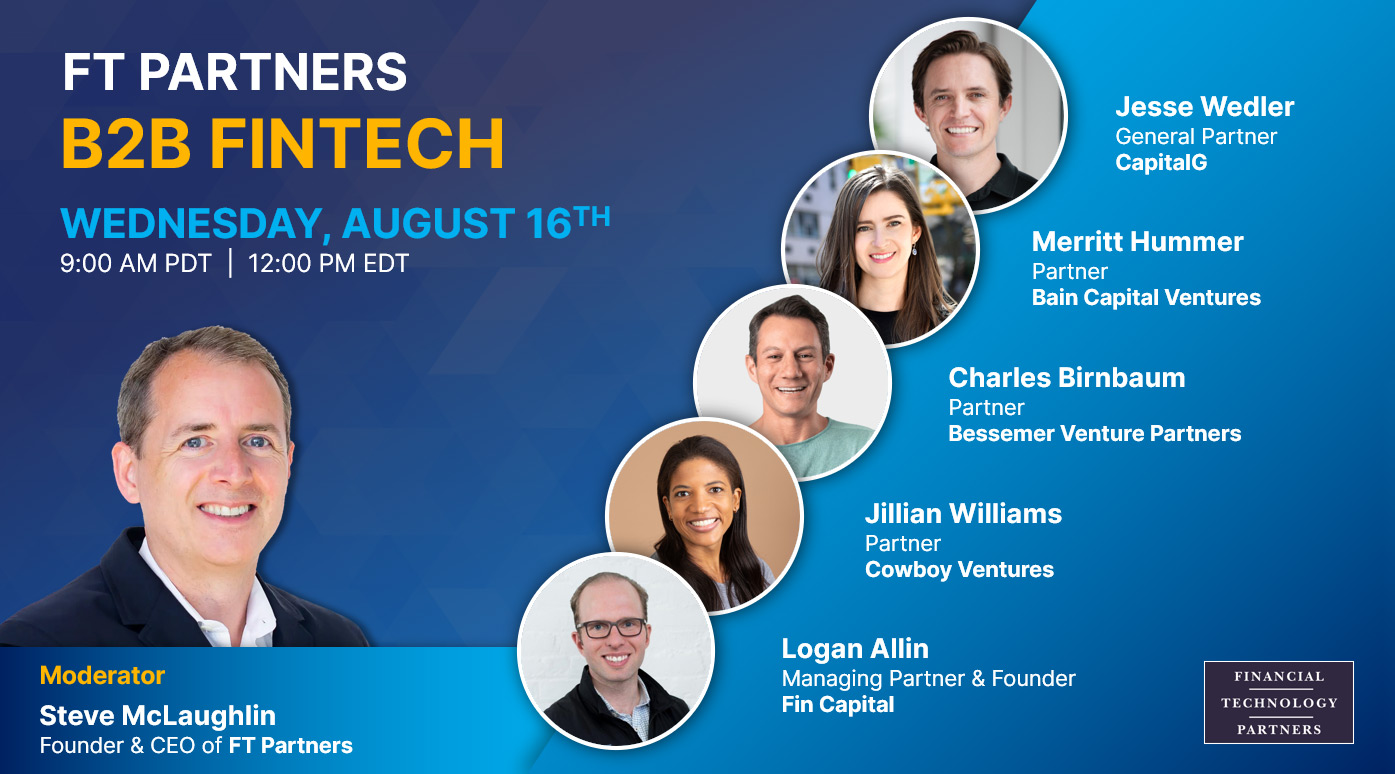 On August 16, 2023, FT Partners held a VIP video conference that brought together five leading investors to discuss the B2B FinTech space. The panel highlighted successful business models and emerging areas of innovation, as well as current investment trends and the scale of the opportunity across verticals and customer types.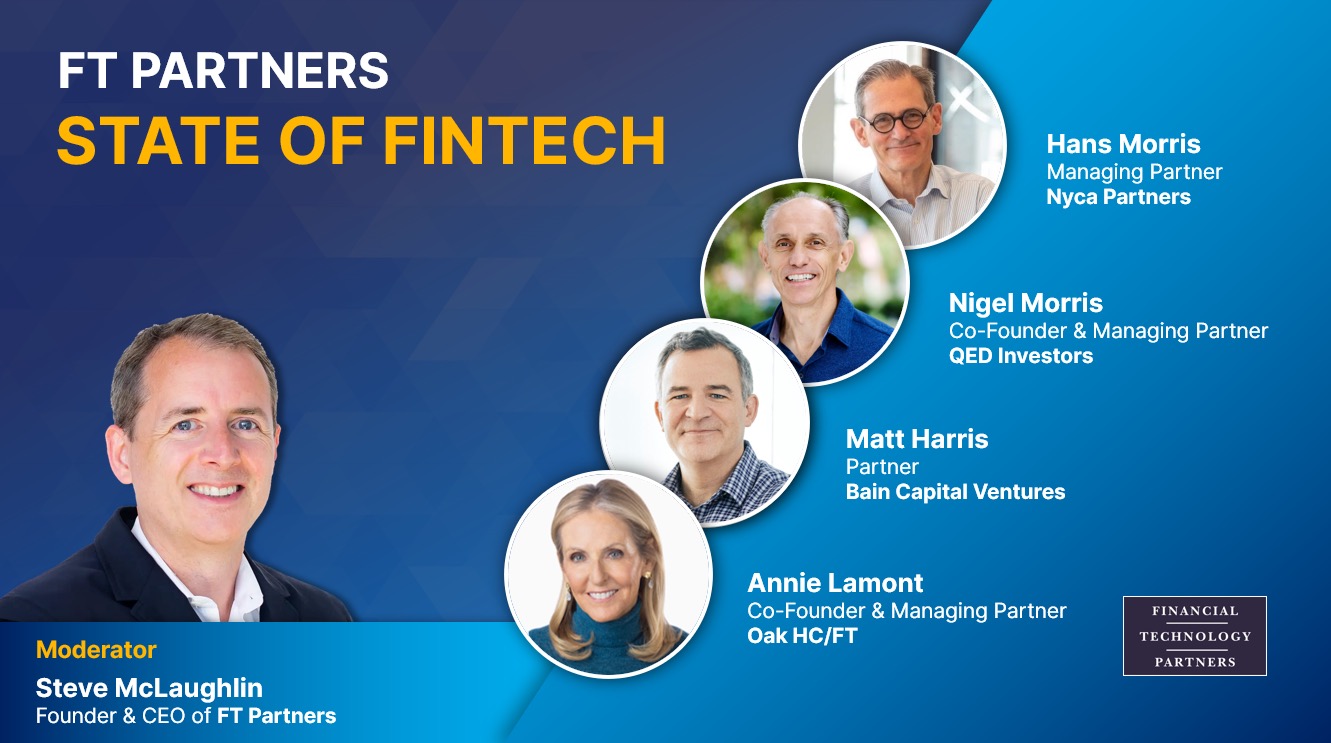 On March 30, FT Partners held a VIP video conference that brought together four industry titans to discuss the State of FinTech in 2023. The panel discussed key trends impacting the FinTech landscape from an investor's perspective.
FT Partners FinTech Industry Research
FT Partners regularly publishes detailed research highlighting key trends driving market activity across the FinTech Landscape. Our research and analysis has been featured on Bloomberg, the Wall Street Journal, Dow Jones and the Financial Times and is regularly viewed by CEOs and industry leaders. FT Partners' unique insight into FinTech is a direct result of successfully executing hundreds of transactions combined with over 19 years of exclusive focus on the FinTech sector. Follow FT Partners on Twitter and LinkedIn for real time updates, and subscribe to FT Partners' Monthly FinTech Market Analysis for the industry's most comprehensive and detailed updates on the FinTech sector.
Each report published by FT Partners contains an in depth review of a unique area of the FinTech marketplace and is highly valuable and topical to CEOs, board members, investors and key stakeholders across the FinTech landscape. Each report is continually updated by the FT Partners Research Team with the latest information, facts and metrics to provide our readers with the most up-to-date and comprehensive subject matter. The latest version of each report is provided below along with a brief overview of the report contents.
CEO Monthly Market Update & Analysis Reports
FT Partners provides the broadest and most specialized coverage of FinTech with our comprehensive monthly sector-specific reports. Our depth of research and insight is unmatched in the industry and these reports are widely recognized and reviewed by top CEO's and investors in the market. Each monthly report includes sector-specific public company comparables, recent financing and M&A transactions and upcoming industry conferences and events. The latest month's reports are available below. Subscribe to receive the latest reports every month.
November 2023
Exclusive Executive Interviews
CEO
LTX applies AI technology to the corporate credit market in the US, providing AI-powered insights and improving liquidity and execution for investors and dealers.
CEO
Virtual Asset Regulatory Authority (VARA), created in March 2022 is responsible for regulating and supervising Virtual Assets in various zones within the Emirate of Dubai.
Co-Founder & CTO
AgentSync builds modern insurance infrastructure that connects carriers, agencies, MGAs, and producers with efficient onboarding, compliance, real-time data, and more.
Recent Transaction Profiles
FT Partners frequently publishes detailed profiles on significant financing, IPO, and M&A transactions in the FinTech space. See below for a selection of our latest reports.
Acquires

$250,000,000
Wex Acquires Payzer for $250,000,000
FT Partners Advised

Acquires


$4,000,000,000
Vista Equity Partners Acquires EngageSmart (NYSE: ESMT) for Approximately $4 billion

Series B Financing
$200,000,000+
QI Tech Raises $200 million in Series B Financing Led by General Atlantic
Quarterly Insights & Annual Almanacs
Comprehensive FinTech Financing, M&A and IPO data
FT Partners' FinTech Insights Reports are published on a quarterly basis, along with a comprehensive year-end FinTech Almanac. All information included in the reports is sourced from FT Partners' Proprietary Transaction Database, which is compiled by the FT Partners Research Team through primary research and data analysis. The reports feature M&A, financing and IPO statistics and trends as well as breakdowns by FinTech vertical, geography, investor-type and much more. Be sure to check back for quarterly updates and additions. All recent reports can be viewed or downloaded for free.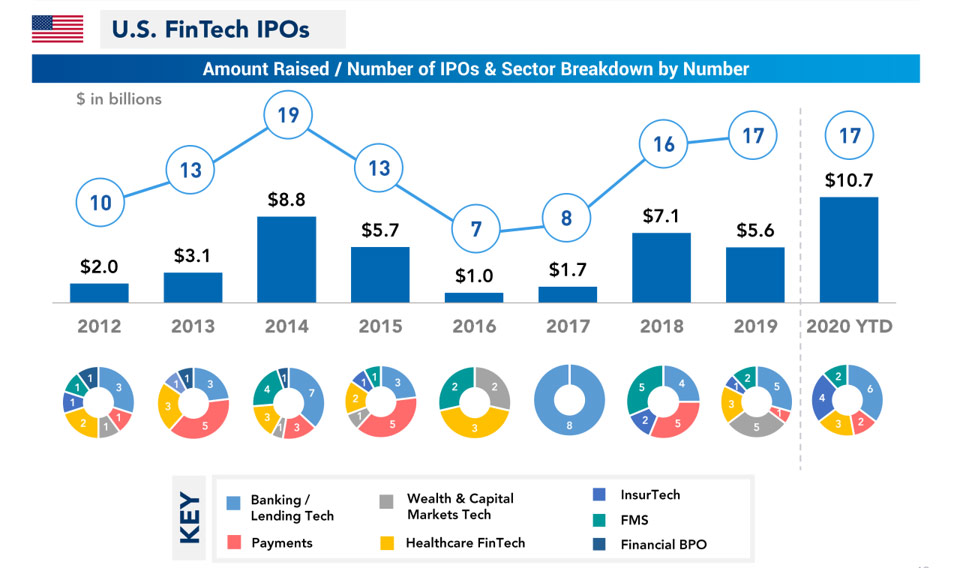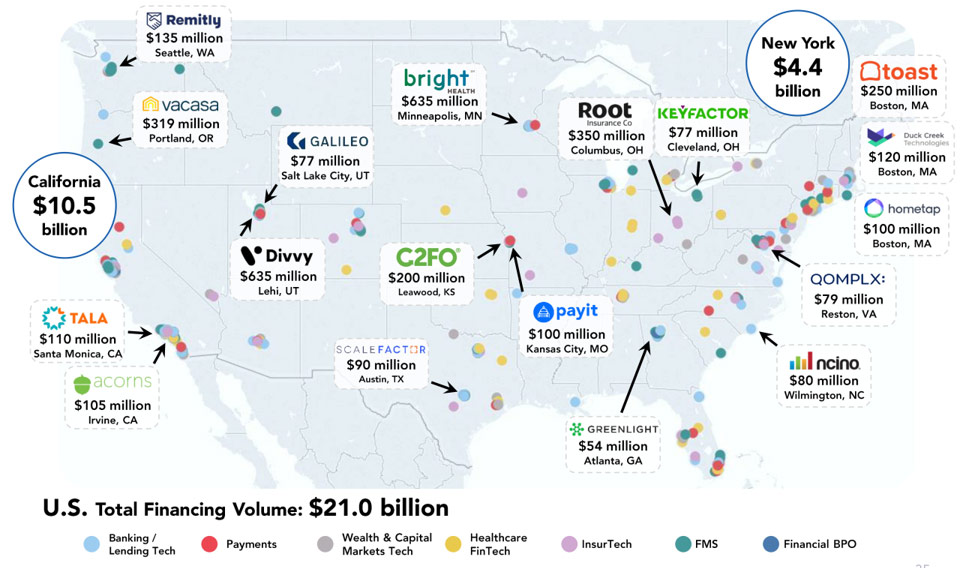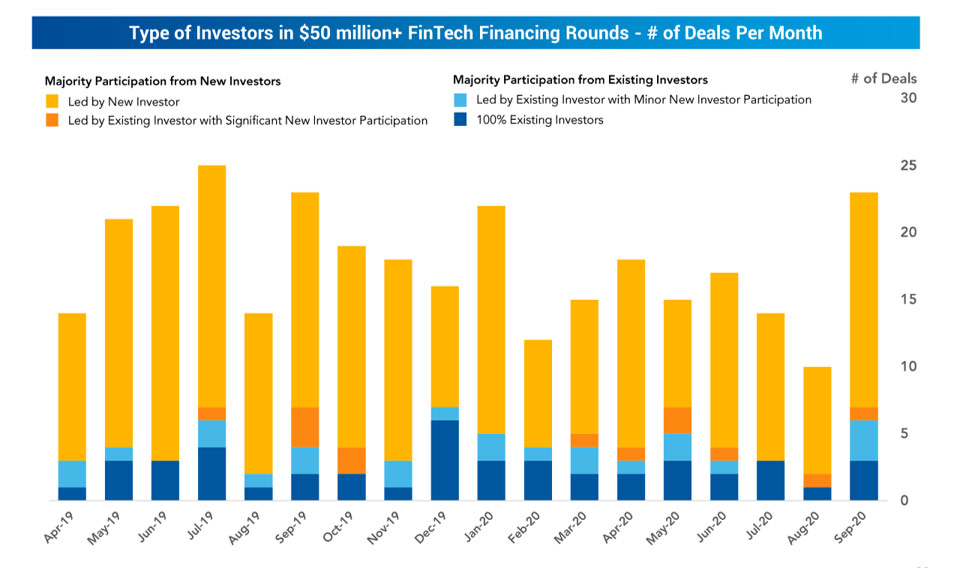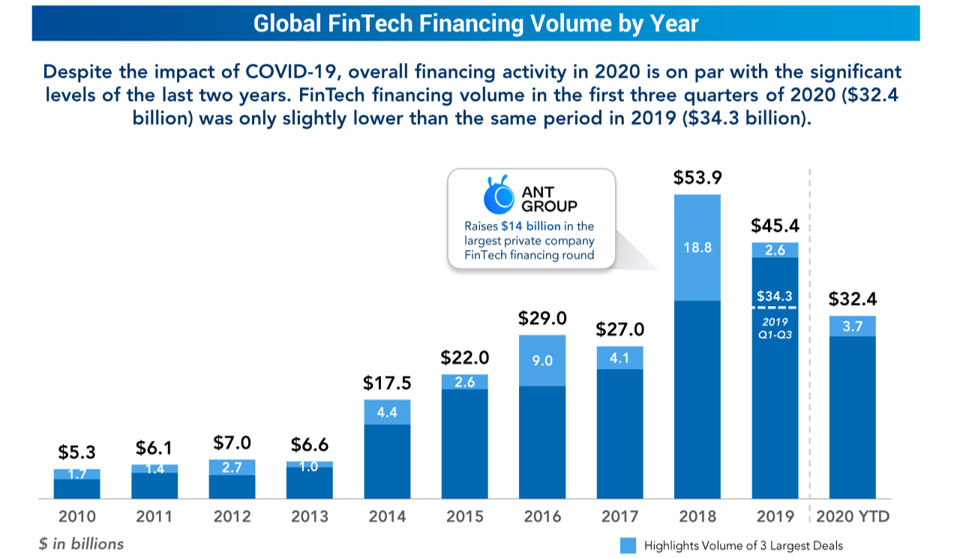 Regularly Updated Infographics
FT Partners regularly publishes infographics highlighting global FinTech transaction activity covering financings, IPOs, SPACs and M&A deals. This deal activity is derived from our proprietary transaction database. Available infographics include: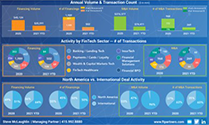 Features total financing / M&A dollar volume and deal count
Highlights largest transactions in the week
Tracks YTD activity by FinTech Sector and Geography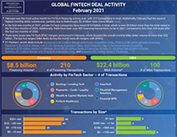 In-depth analysis of U.S. FinTech IPOs over the past decade including yearly breakdowns by capital raised and FinTech sector
Rankings of the largest IPOs by capital raised, best and worst performing and most recent FinTech IPO transactions
Insight into pending IPOs, spin-offs and companies acquired while on file for an IPO
Details on the most active investors in FinTech IPOs
Ranking of the most well funded private FinTech companies
Selected Industry Research Reports