Watch the Replay – State of FinTech 2023
On March 30, FT Partners held a VIP video conference that brought together four industry titans to discuss the State of FinTech in 2023. The panel discussed key trends impacting the FinTech landscape from an investor's perspective. Our panelists included:

• Annie Lamont, Co-Founder & Managing Partner of Oak HC/FT
• Nigel Morris, Co-Founder & Managing Partner of QED Investors
• Hans Morris, Managing Partner of Nyca Partners
• Matt Harris, Partner at Bain Capital Ventures
• Steve McLaughlin, Founder & CEO, FT Partners (Moderator)
FT Partners Publishes New Industry Research Report - FinTech in Africa: Momentum is Building and the World is Taking Notice
Momentum is building around FinTech in Africa as business models are proving to be investable, large financing rounds are taking place, unicorns are emerging, prominent global investors and strategics are taking notice, and exits are beginning to happen. As global best practices take hold in Africa, key risks of investing in the region are declining. And, perhaps taking notes from earlier entrants, the quality of first-time and repeat founders has improved, with many entrepreneurs on their second or third venture. Consequently, Africa is no longer a region that investors can ignore.
FT Partners Publishes Women in FinTech: Rising Stars Report
For the Rising Stars report, FT Partners asked the FinTech ecosystem to nominate women that are leading the way for the future of FinTech, across all departments and roles, from product management, marketing, technology, finance, investing, entrepreneurship and leadership. We witnessed a positive outpouring from all sides of the industry resulting in hundreds of nominations recognizing the talents and contributions of many women working in the FinTech industry. With this report, we strived to assemble a diverse collection of interviews featuring women in growth and leadership phases of their careers in order to showcase new perspectives, inspiring professional journeys, and advice. The report features more than 30 exclusive interviews with Rising Stars in FinTech detailing their inspirations, challenges they confronted, opportunities they seized, mentors that have guided them along the way, and each person's unique path to success in the FinTech industry.
Recent VIP Video Conferences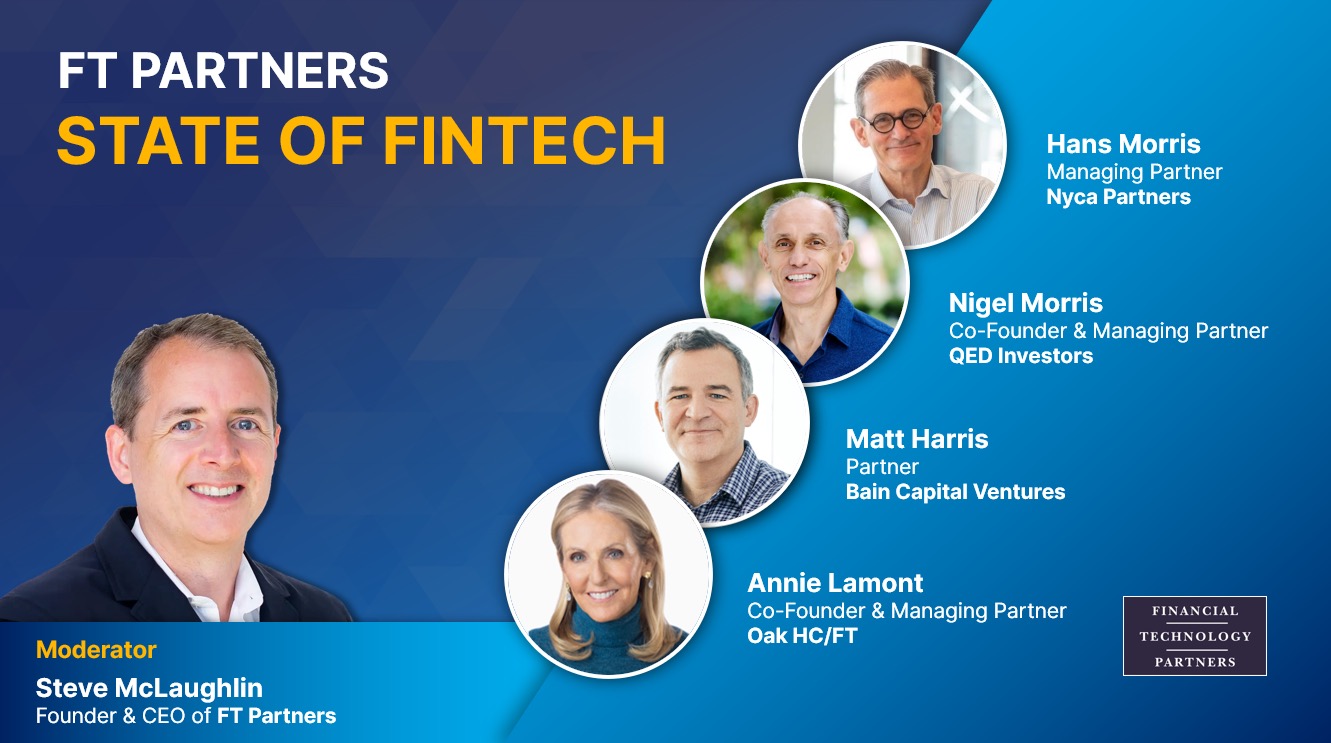 On March 30, FT Partners held a VIP video conference that brought together four industry titans to discuss the State of FinTech in 2023. The panel discussed key trends impacting the FinTech landscape from an investor's perspective.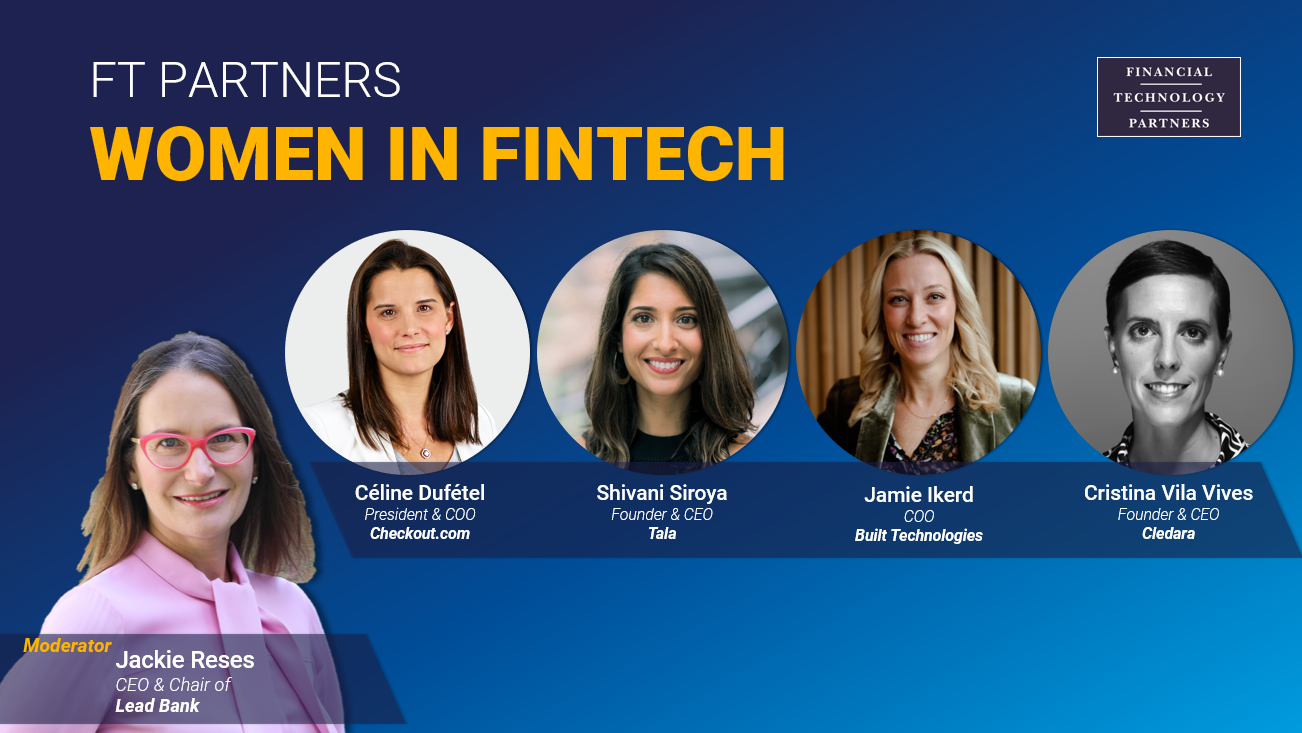 On March 8, 2023 – International Women's Day – FT Partners' held its third annual Women in FinTech VIP video conference. The live panel featured five leading female executives from across the FinTech sector. The women shared their strategies for operating successful FinTech businesses in the current market environment in addition to discussing interesting FinTech innovations and trends, as well as offering advice and career lessons for up-and-coming leaders.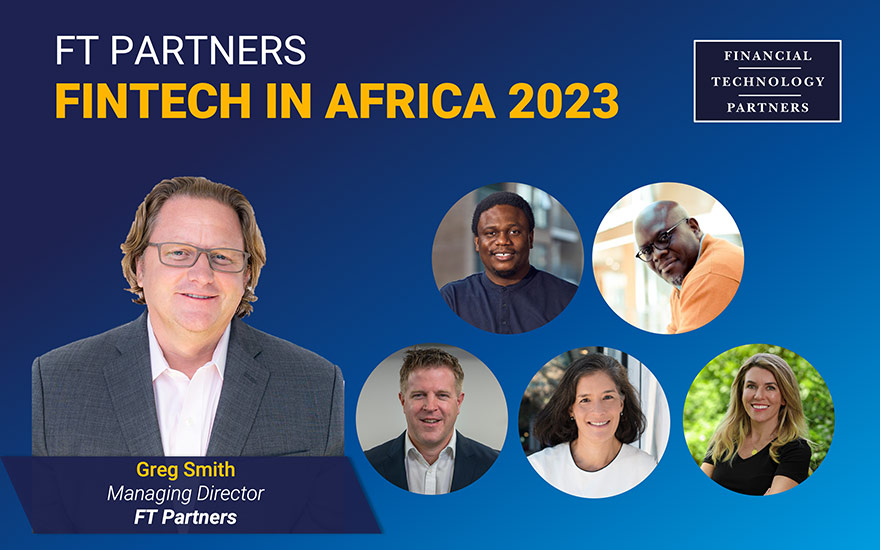 On Wednesday, January 18, 2023, FT Partners held a live VIP video conference, FinTech in Africa 2023, that brought together leading Africa-focused FinTech CEOs and investors to discuss the state of FinTech in Africa in 2023. FinTech in Africa is nearing its coming of age phase as business models are proving to be investable, large financing rounds are taking place, unicorns are emerging, prominent global investors and strategics are taking notice, and exits are beginning to happen.
FT Partners FinTech Industry Research
FT Partners regularly publishes detailed research highlighting key trends driving market activity across the FinTech Landscape. Our research and analysis has been featured on Bloomberg, the Wall Street Journal, Dow Jones and the Financial Times and is regularly viewed by CEOs and industry leaders. FT Partners' unique insight into FinTech is a direct result of successfully executing hundreds of transactions combined with over 19 years of exclusive focus on the FinTech sector. Follow FT Partners on Twitter and LinkedIn for real time updates, and subscribe to FT Partners' Monthly FinTech Market Analysis for the industry's most comprehensive and detailed updates on the FinTech sector.
Each report published by FT Partners contains an in depth review of a unique area of the FinTech marketplace and is highly valuable and topical to CEOs, board members, investors and key stakeholders across the FinTech landscape. Each report is continually updated by the FT Partners Research Team with the latest information, facts and metrics to provide our readers with the most up-to-date and comprehensive subject matter. The latest version of each report is provided below along with a brief overview of the report contents.
CEO Monthly Market Update & Analysis Reports
FT Partners provides the broadest and most specialized coverage of FinTech with our comprehensive monthly sector-specific reports. Our depth of research and insight is unmatched in the industry and these reports are widely recognized and reviewed by top CEO's and investors in the market. Each monthly report includes sector-specific public company comparables, recent financing and M&A transactions and upcoming industry conferences and events. The latest month's reports are available below. Subscribe to receive the latest reports every month.
March 2023
Exclusive Executive Interviews
CEO
Zywave is a leading provider of SaaS solutions for insurance agents, brokers, carriers and other industry participants.
Co-Founder & CEO
Igloo is an InsurTech company focused on helping underserved communities in Southeast Asia with its comprehensive suite of digital microinsurance products.
Co-Founder & CEO
Arbol is a global climate risk coverage platform bringing scale, transparency, and efficiency to parametric coverage.
Recent Transaction Profiles
FT Partners frequently publishes detailed profiles on significant financing, IPO, and M&A transactions in the FinTech space. See below for a selection of our latest reports.

Acquires

$275,000,000
Marqeta (NasdaqGS: MQ) Acquires Power Finance for Approximately $275 million

Acquires

$1,300,000,000
Nuvei (TSX: NVEI) Acquires Paya (NasdaqCM: PAYA) for Approximately $1.3 billion

Acquires

$2,600,000,000
Vista Equity Partners Acquires Duck Creek Technologies for Approximately $2.6 billion
Quarterly Insights & Annual Almanacs
Comprehensive FinTech Financing, M&A and IPO data
FT Partners' FinTech Insights Reports are published on a quarterly basis, along with a comprehensive year-end FinTech Almanac. All information included in the reports is sourced from FT Partners' Proprietary Transaction Database, which is compiled by the FT Partners Research Team through primary research and data analysis. The reports feature M&A, financing and IPO statistics and trends as well as breakdowns by FinTech vertical, geography, investor-type and much more. Be sure to check back for quarterly updates and additions. All recent reports can be viewed or downloaded for free.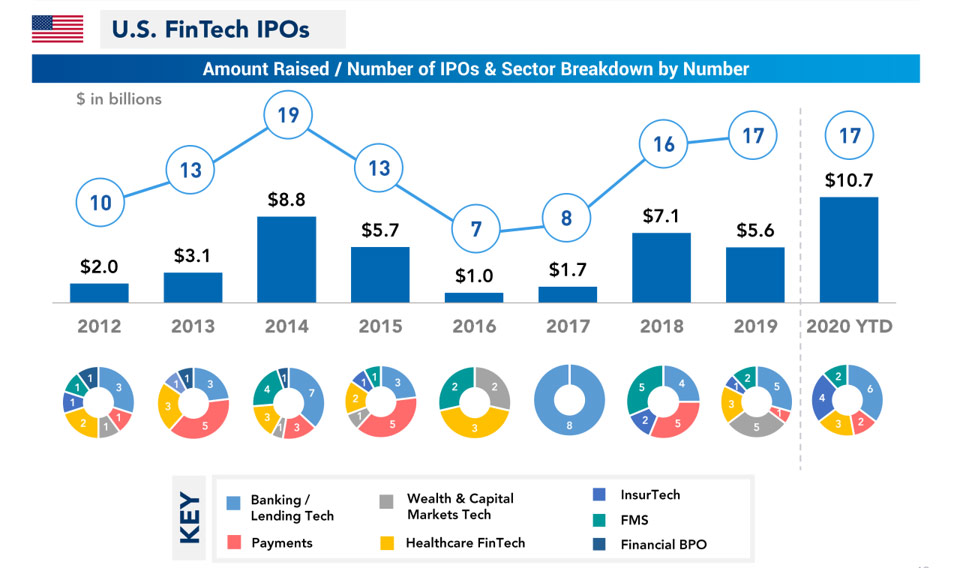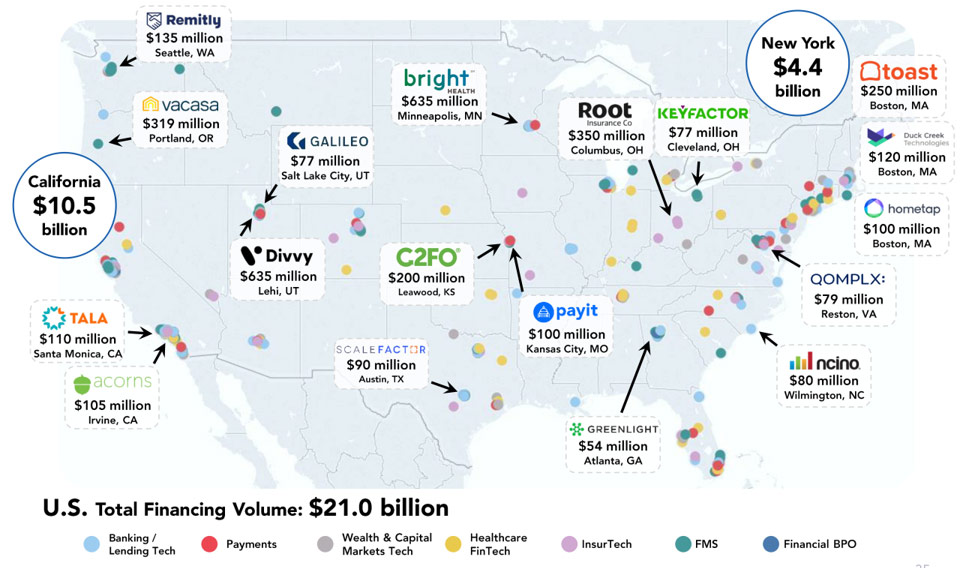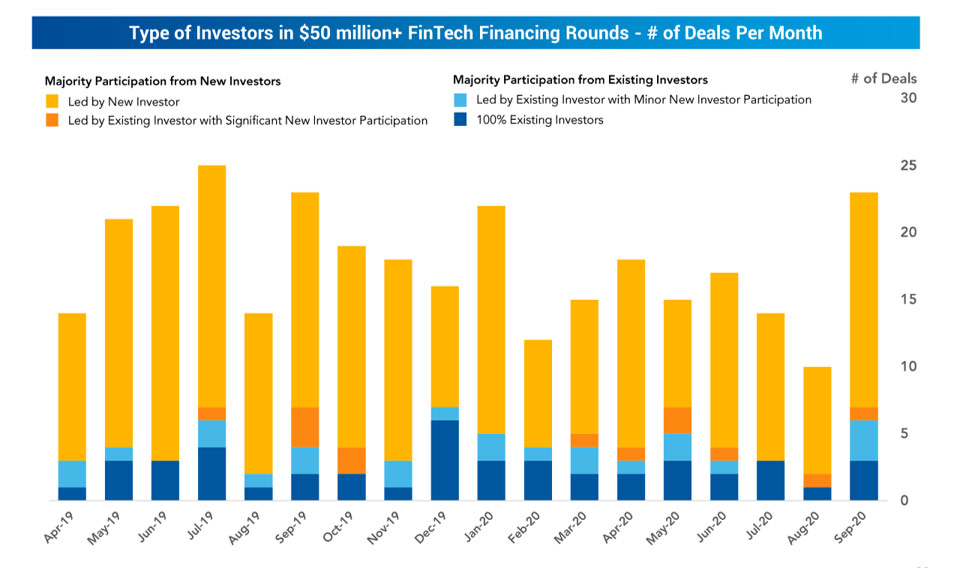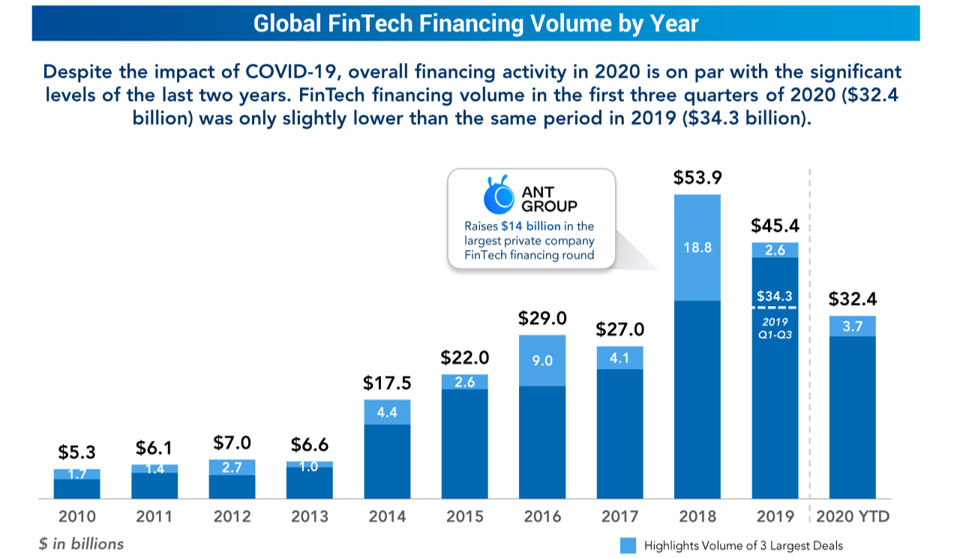 Regularly Updated Infographics
FT Partners regularly publishes infographics highlighting global FinTech transaction activity covering financings, IPOs, SPACs and M&A deals. This deal activity is derived from our proprietary transaction database. Available infographics include: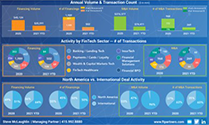 Features total financing / M&A dollar volume and deal count
Highlights largest transactions in the week
Tracks YTD activity by FinTech Sector and Geography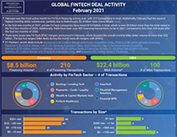 In-depth analysis of U.S. FinTech IPOs over the past decade including yearly breakdowns by capital raised and FinTech sector
Rankings of the largest IPOs by capital raised, best and worst performing and most recent FinTech IPO transactions
Insight into pending IPOs, spin-offs and companies acquired while on file for an IPO
Details on the most active investors in FinTech IPOs
Ranking of the most well funded private FinTech companies
Selected Industry Research Reports